Don't Pay Too Much For Parts
Get the Best Discounts on Kia Parts from Huffines Kia Corinth
Here at Huffines Kia Corinth, we understand the importance of using Genuine Kia Parts when it comes to maintenance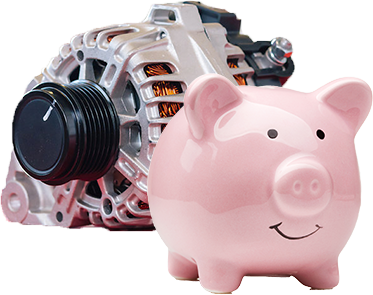 and the longevity of your vehicle. That's why we offer a variety of Parts Specials to help our customers get

high-quality parts for an affordable price they'll appreciate. From batteries to wiper blades, you'll find exactly what you need right here at our dealership. Plus, we feature new specials each month, so be sure to check back regularly for incredible savings.
We're sorry, we do not currently have any specials published. Please check back soon or contact us for more information.
Sorry, no specials are available at this time. Please check back later!
When it comes to maintenance and the longevity of your vehicle, we at Huffines Kia Corinth, Texas, are aware of the importance of buying only genuine Kia parts. We provide a range of parts specials so you can purchase high-quality components and get them installed at an unbeatable price. Our department has a wide variety of tires, oil filters, air filters, cosmetic accessories, and more, and our special offers are frequently updated. Check back often, and book a service with our team whenever you're ready.
How To Use Parts Specials
When you see a fitting special on this page, make sure to verify all of the details related to the unique parts you want. After carefully reading the coupon, choose which of our dealerships you'd like to take your car to, print the coupon, and bring it with you when you visit.
You can also contact us if you have any questions about a specific Kia component or set of parts. We'll respond to your inquiries and provide you with updated information. Message or call, and we'll help find what you need in our stock or order it. In either case, getting a discount or other advantages as part of a Kia parts special makes maintaining or upgrading your Kia all the more satisfying.
Examples of Parts Specials
Finding reasonably priced Kia parts nearby Corinth is a good feeling, especially when saving on components that usually add up to a lot. Between discounted parts and labor costs, you might save hundreds of dollars per year on car care at Huffines Kia Corinth. Here's a brief overview of some of the parts offers available:
Kia Accessory Discounts
Find discounts to save on your next Kia accessory, such as hood covers, interior lighting, or upgrades. From interior items such as cargo nets and seat covers to alternate wheel covers or spoilers, you can claim genuine Kia components at a discount.
Brake Pad and Rotor Discounts
Saving money on brake services will add up to a lot over the years. Some of our deals might include a flat fee for a thorough car refresher service, with brake pad replacements and rotor care included on top of many other tasks. We also offer brake-specific service and parts specials.
Replacement Part Coupons
For batteries, air filters, and many other commonly or occasionally replaced parts, look for the current discounts running on this page before you buy from anywhere else.
Occasionally, you might need a more sophisticated job done that requires a specialized tool or piece of equipment. Don't forget that our service center also has special offers on installations, replacements, checkups, and more. Bring your Kia in at any time, and we'll be happy to help.
The Kia Original Equipment Manufacturer Difference
You can think of original equipment manufacturer (OEM) replacement parts as being replicas of the ones used to fit your model. These parts may have major differences between model years, such as different years of the Kia Sportage. Kia has strict standards that the parts manufacturer must follow for OEM parts. However, some stores may recommend aftermarket components as a cost-saving measure when they're out of OEM stock. Alternatively, some mechanics might use aftermarket, generic-fit parts. In either case, these components are not required to follow Kia's exacting standards and are not ideal.
Although they may fit and work without any apparent issue, general parts can have shorter lifespans than genuine Kia gear. An improper fit might even cause expensive maintenance issues. In the long term, even just one non-OEM component may lead to problems months or years later. In contrast, buying the best available replacement parts from Huffines Kia Corinth is always a smart move, especially with the specials on this page.
Why Buy Kia Parts From Huffines Kia Corinth?
Whether you just need some parts for a DIY job or want to transform your Kia's exterior in one easy service appointment, you'll be glad you entrusted your car or SUV to us. It could be for front-end details, such as the headlights, wheels and tires, engine and fuel parts, or even for braking and suspension systems. In any case, our team can explain what works best with your make and model. If something that you need isn't in stock at the time, our team can order and reserve it for you.
Our parts offers help you keep your Kia vehicle in top condition, but don't forget that we're also the top Kia service center in the Corinth area. Sometimes, you might need more specific work. Perhaps you managed to damage a part when you tried to remove it or a replacement doesn't appear to be working properly. Whatever the case, schedule an appointment online and bring your Kia to our dealership.
One of the many benefits of scheduling routine visits at our service center is that our skilled Kia technicians can monitor the health of every single part of your vehicle. For many important components, you usually won't know when they're due for replacement without some technical knowledge. We continuously train every member of our staff regarding new parts and repair techniques.
Best Prices and Offers on Kia Parts
Whether you drive a deluxe trim level Kia Sorento or a standard Rio, we offer the necessary parts and accessories in addition to dependable servicing. You can count on Huffines Kia Corinth to supply the right Kia parts at a reasonable price under the parts special section. From Corinth to Dallas or Fort Worth, everyone needs a car in good working condition that is prepared for the changing seasons and busy streets through much of north Texas.
Why waste money and endure a suboptimal performance with generic replacement parts? You can visit or order online from Huffines Kia Corinth and rest easy knowing you got a great deal on an exact replacement or genuine Kia equipment. Order from us at your convenience, and, if necessary, be sure to book a service for installation and checkups.